The embattled flag carrier's passenger flights were just 19.9 per cent full in August, despite once again allowing transits from the mainland
Overall, the airline has seen ticket sales collapse by 99 per cent since the pandemic crippled international air travel
Hong Kong's Cathay Pacific has grounded two-fifths of its passenger fleet for the "foreseeable future", warning it will not survive Covid-19 unless it restructures and adapts for a post-pandemic future.
Executive director Ronald Lam Siu-por said it was clear the 73-year-old airline was "facing a long and uncertain road to recovery" as it planned a sweeping restructuring that could be unveiled as soon as next month.
The beleaguered flag carrier on Monday revealed its planes were just 19.9 per cent full in August, the lowest since it first began reporting load factors.
The carrier also said that 40 per cent of its fleet – or 72 planes – would be parked outside Hong Kong, up from an earlier prediction of 60, as the airline requires fewer planes in the near term.
"We are weathering the storm for now, but the fact remains we simply will not survive unless we adapt our airlines for the new travel market," Lam warned. "A restructuring will therefore be inevitable to protect the company, the Hong Kong aviation hub, and the livelihoods of as many people as possible."
Last week, Cathay Pacific and Cathay Dragon said they would not take further government wage subsidies, paving the way for job cuts. The airline's subsidiaries, however, will be taking more help.
The airline group carried just 35,773 people last month, down from the 42,984 flown in July. By way of comparison, Cathay carried 4.46 million people in August of last year. The airline has suffered a 99 per cent collapse in its daily passenger numbers overall.
Industry body the International Air Transport Association (IATA) said at the start of this month that the recovery remained weaker than expected, with airlines starting to ramp up their number of flights despite a lack of commensurate demand. IATA does not expect a full recovery until 2024.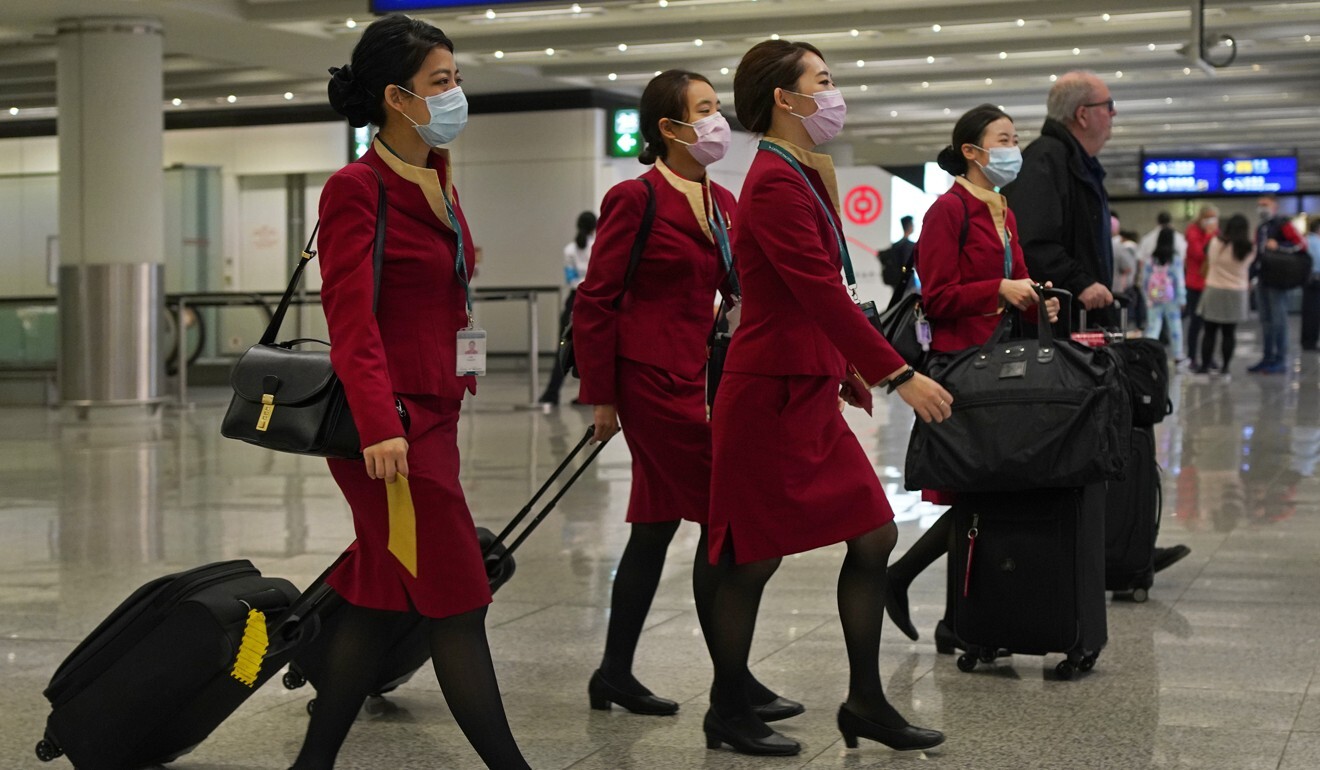 Cathay Pacific announced last week that it would not take part in a third round of Hong Kong coronavirus wage relief, opening the door for lay-offs. Photo: APCathay was saved in June by a HK$27.3 billion Hong Kong government cash injection, which formed part of a wider HK$39 billion funding package topped up by shareholders.The bailout was a welcome cushion after the HK$9.87 billion loss Cathay recorded in the first six months of 2020, but the airline said it was still burning through HK$1.5-2 billion of cash per month.
Hong Kong International Airport said last Friday it handled just 84,000 travellers in August, down from July's 96,000. It has seen a 98.6 per cent decline from the same period last year amid the coronavirus pandemic.
Passenger volume was down among Hong Kong residents, visitors and passengers passing through the city, despite the reopening of transits from mainland China in mid-August. The month-on-month decline indicated any boost from the one-way reopening of transits was limited.
Cathay said this month and next it would mount its highest number of flights since the pandemic began, but passenger capacity would remain 90 per cent below pre-virus levels.
Lam said the airline had still not seen "solid signs of immediate improvement" in travel bookings, though it was boosted somewhat by student traffic to the UK, with flights to London about 90 per cent full.
For the airline's comparatively buoyant cargo business, while it continued to carry less cargo, it saw the lowest declines in tonnage and cargo since the pandemic started. That decline also reflects the downturn in passenger flights, where half of cargo is typically carried.
The airline generated more money from air freight than air tickets in the first six months of the year.