Protesters opposed to Covid-19 restrictions have gathered in Edinburgh as figures showed the highest weekly rise in cases since May.
Coronavirus sceptics, vaccine conspiracy theorists and those opposed to mandatory mask-wearing staged a rally at Holyrood.
It comes as figures showed almost a thousand people tested positive for the virus this week in Scotland.
In the past seven days there were 994 confirmed cases.
The figure is almost double the 507 new cases in the week previous.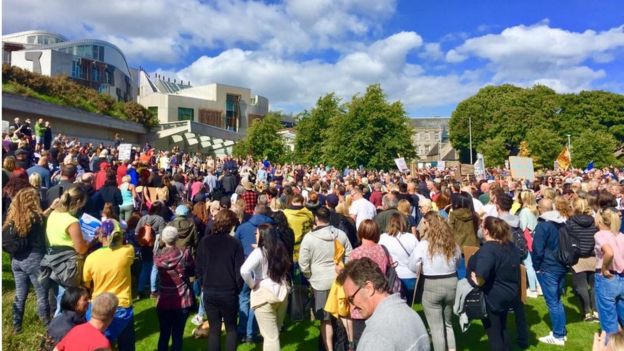 Despite the rise, hundreds marched to the parliament building in Edinburgh with flags and placards for the Scotland Against Lockdown protest, organised by the Saving Scotland Facebook group.
A post advertising the event said it was "time to stand up together, and listen to real scientific evidence in regards to the health of the Scottish people."
The group said lockdown was causing "more harm than the virus" and that Scots should say "no to mandatory vaccines and masks. No to secondary lockdowns."
Source: BBC News