People planning trips abroad face uncertainty, with the possibility of new countries being added to the UK's quarantine list.Holidaymakers arriving from places like Spain, France and Croatia already have to self-isolate for two weeks after arriving in the UK.
How does the government decide which countries go on the quarantine list?
The decision is generally triggered when 20 or more people out of every 100,000 in a country are infected over seven days. Other factors are also considered.The Joint Biosecurity Centre (JBS) – set up by the government to monitor coronavirus – advises which countries should be on the quarantine list, and which should be exempt.It looks at:
an estimate of the proportion of the population that is currently infectious
trends in the number of cases and deaths
transmission status
information on a country's testing capacity
Will Greece and Turkey go on the quarantine list?
There have been concerns about coronavirus rates in both Greece and Turkey, which have risen in recent weeks.As of 26 August, Greece had a seven-day average infection rate of 14.1 cases per 100,000 people, while Turkey's was 11.4.This puts them below the quarantine threshold of 20 cases, but the government also considers the other factors set out above.The Czech Republic is very close to the threshold with a seven-day rate of 19.4, while Switzerland has exceeded it with a rate of 21.2.Meanwhile, Gibraltar has a seven-day average of more than 100 per 100,000 people.
Which countries are on the quarantine list?
In recent weeks, the government in England has announced any changes to the quarantine list on Thursdays. These have come into force the following Saturday at 4am.Quarantine restrictions have been reapplied to several countries:
22 August – Croatia, Austria, Trinidad and Tobago (plus Switzerland for travellers to Scotland)
15 August – France, Netherlands, Malta, Monaco, Turks & Caicos, Aruba
8 August – Belgium, Andorra, Bahamas
31 July – Luxembourg
27 July – Spain
However, a sustained fall in cases has seen Portugal added to the dozens of "air bridge" countries UK travellers can visit without having to quarantine on their return.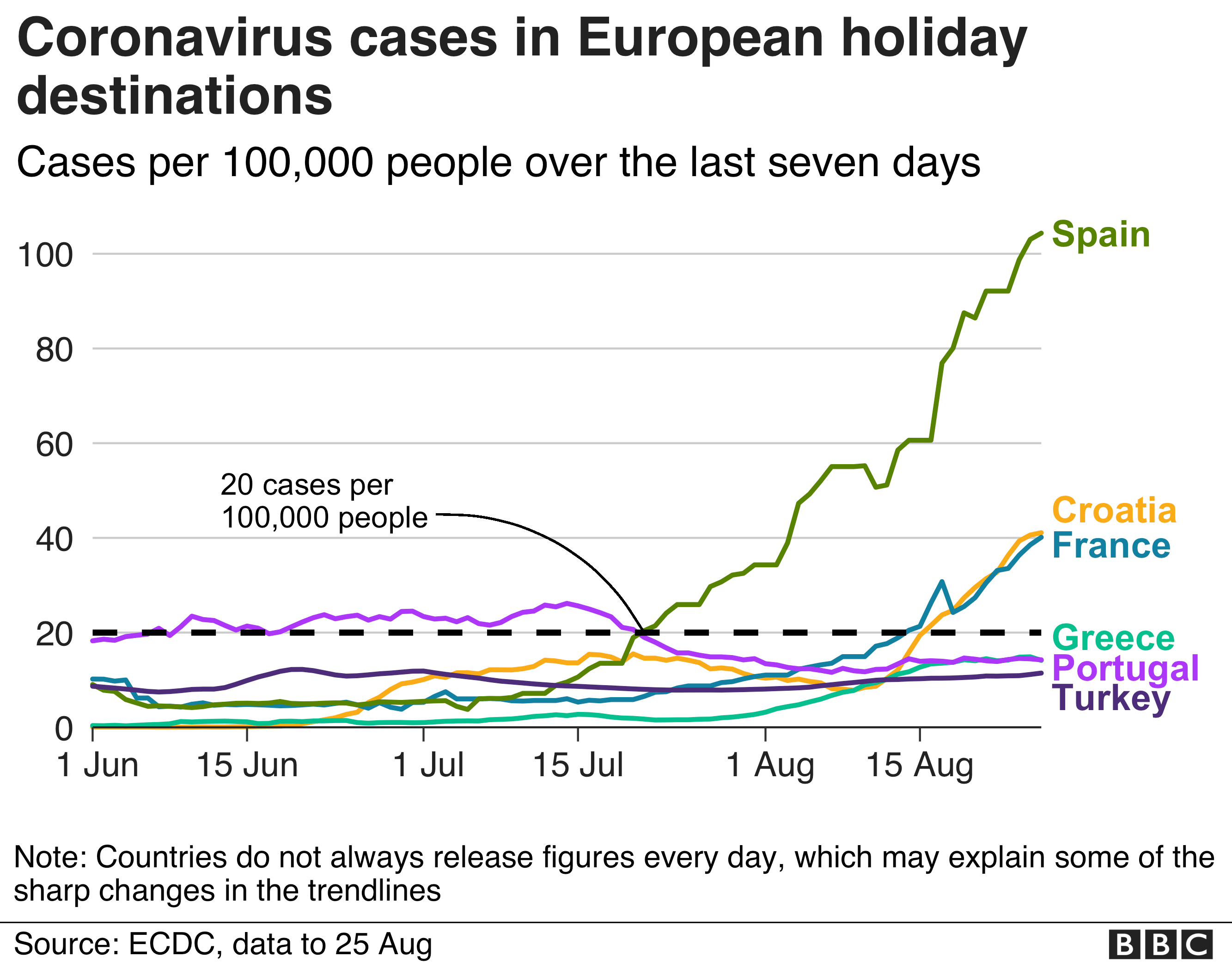 Source: BBC