One of the world's busiest urban rail systems will be shut down for ordinary commuters from Monday morning to prevent the spread of coronavirus infection in Mumbai, one of India's most populous cities. Only government workers in "essential services" will be allowed to travel on a truncated service.
This was waiting to happen.
Consider this. Eight million people take Mumbai's crowded suburban train network every day. Packed to nearly three times its capacity, this is one of the busiest railway systems in the world.
The 459km (285-mile) network is the lifeline of India's financial and entertainment capital, accounting for nearly 80% of all commuting trips in the populous western city. The suburban trains "cover almost the distance up to [the] moon in one week," the network's website says.
The 66-year-old network carries 60,000 passengers per km per day, the highest among all the leading commuter rail systems in the world, say officials. The coaches are sturdy enough to carry a "super dense crush load", a phrase coined by the railways to describe the intense crowding on Mumbai's trains. This means that a nine-car train designed for 1,800 standing passengers will often carry up to 7,000 passengers, according to Monisha Rajesh, author of Around India in 80 Trains. "Mumbai's local trains were certainly not for the fainthearted," she wrote.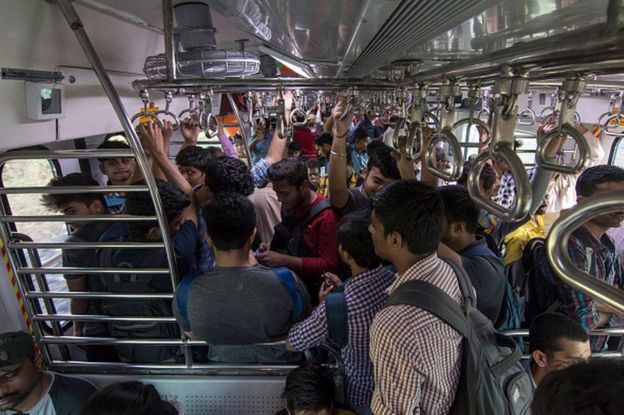 Now consider this. The western state of Maharashtra, of which Mumbai is the capital, has confirmed more than 60 coronavirus infections, the highest in India so far. Scores of long distance trains out of the city have been cancelled, but the suburban network has continued to rumble on, raising fears of the mass spread of the virus on these packed trains. The crowded service was an easy target of a terror attack in 2006 when serial blasts ripped though a number of trains. At least 180 people were killed and more than 800 injured – the high casualty figure was attributed to overcrowding.
Source: BBC News