As large numbers of people with only mild symptoms are discharged from hospital, medical teams can concentrate on those most at risk
But 12 of 13 cases reported on Wednesday were brought into the country from overseas
China may be just weeks away from treating the last of its seriously ill Covid-19 patients, as long as it can fend off the threat of people bringing the virus back into the country, according to a Hong Kong-based expert on respiratory diseases.
Of the 13 new cases confirmed in China on Wednesday, 12 were imported.
"The challenge is whether China can contain the number of imported cases, and whether they will infect more people or become severe cases," said Dr Leung Chi-chiu, chairman of the advisory committee on communicable diseases at the Hong Kong Medical Association.
If that threat could be contained, then most Covid-19 patients would be out of hospital by the end of the month, he said.
"We will see a fall in the number of hospitalised patients with mild to moderate symptoms, and the last batch left for treatment will be the severe ones," he said.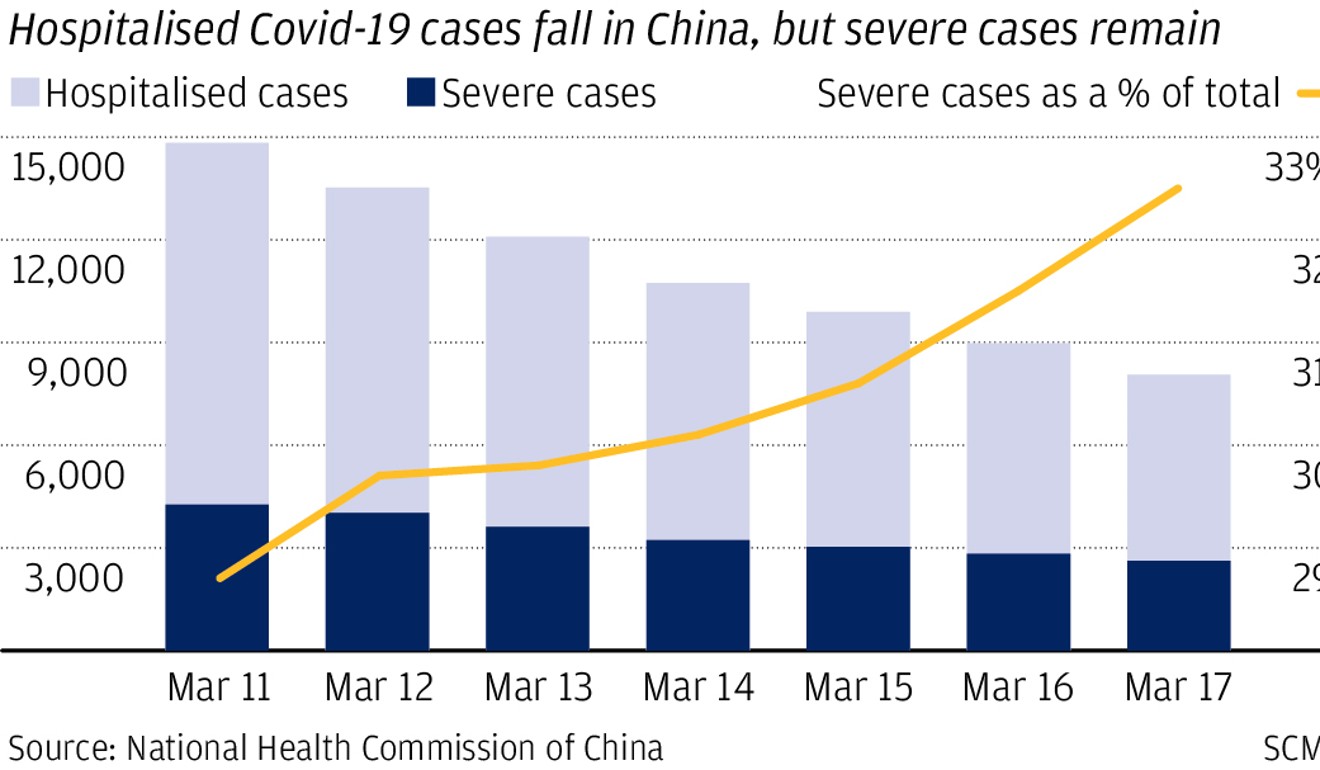 That is good news for China's hospitals, especially in Wuhan where the outbreak began, which were close to buckling under the mass of patients requiring treatment.
As the number of new cases in mainland China has steadily fallen, the proportion of seriously ill patients being treated for Covid-19 in hospital has increased to about one in three, though that was to be expected, Leung said.
"Those who are severely ill will stay a lot longer in hospital than those who only have mild symptoms, and therefore towards the end of this epidemic in the country, the remaining cases will very likely be those that are severe," he said.
"The percentage will only go up as China has now passed the peak period for the disease."
Of the 8,056 people currently being treated in hospital in China and classed as seriously ill, 2,622 are in Wuhan.
The number of seriously ill cases is down significantly from 11,246 on February 18, but their proportion of the total has increased from about 20 per cent at the end of last month.
According to a report published by the World Health Organisation on February 28, at that time, just 13.8 per cent of the cases in China were classed as serious, which includes both severe cases – patients experiencing shortage of breath and having low blood oxygen levels – and critical cases – patients experiencing respiratory failure, septic shock or multiple organ dysfunction.
Boris Tefsen, a senior associate professor at Xian Jiaotong Liverpool University's biological sciences department, said that as the ratio of seriously ill patients rose, so too might the death rate.
"The mortality rate of these patients could be very high … [but] they are being cared for by the top medical teams from all over the country, so there should be enough experienced ICU [intensive care unit] staff to take care of them," he said.
Leung said he was confident China would be able to cope.
"This is a significant burden on the public health system, but as China was able to go through the peak period, they will be able to handle these cases," he said.
Chinese vice-premier Sun Chunlan, who visited Wuhan last week, acknowledged there were still a lot of seriously ill people in the city.
"While the treatment of coronavirus infected patients has resulted in progress, there are still a lot of severe and critical cases in hospital, which poses an enormous challenge," she was quoted as saying in a report by the Communist Party mouthpiece People's Daily.Sun has been leading the government's response to the crisis in Wuhan, which remains home to about 96 per cent of all confirmed cases and has been under lockdown for nearly two months.
The city has 45 hospitals for the treatment of severely ill patients aged over 65 years old, and six for critical cases. A number of makeshift hospitals were also built to treat people with mild symptoms but they have since closed.
Source : SCMP