Undersecretary for Food and Health Dr Chui Tak-yi says administration is not ruling out 'additional measures'
Strong trading and educational links between city and UK leave some Hongkongers in limbo
A top health official in Hong Kong has not ruled out extending coronavirus travel restrictions already in place for most of Europe to Britain as well.
Some local students on overseas exchange programmes have already been forced to cut short their trips in countries on the government list, with at least 38 tour groups to Europe, involving around 800 holidaymakers, being cancelled this month.
On Saturday, a day after the government announced arrivals from the 26 countries in Europe that are part of the Schengen agreement would be put under mandatory home quarantine, Undersecretary for Food and Health Dr Chui Tak-yi was questioned why Britain had been left out.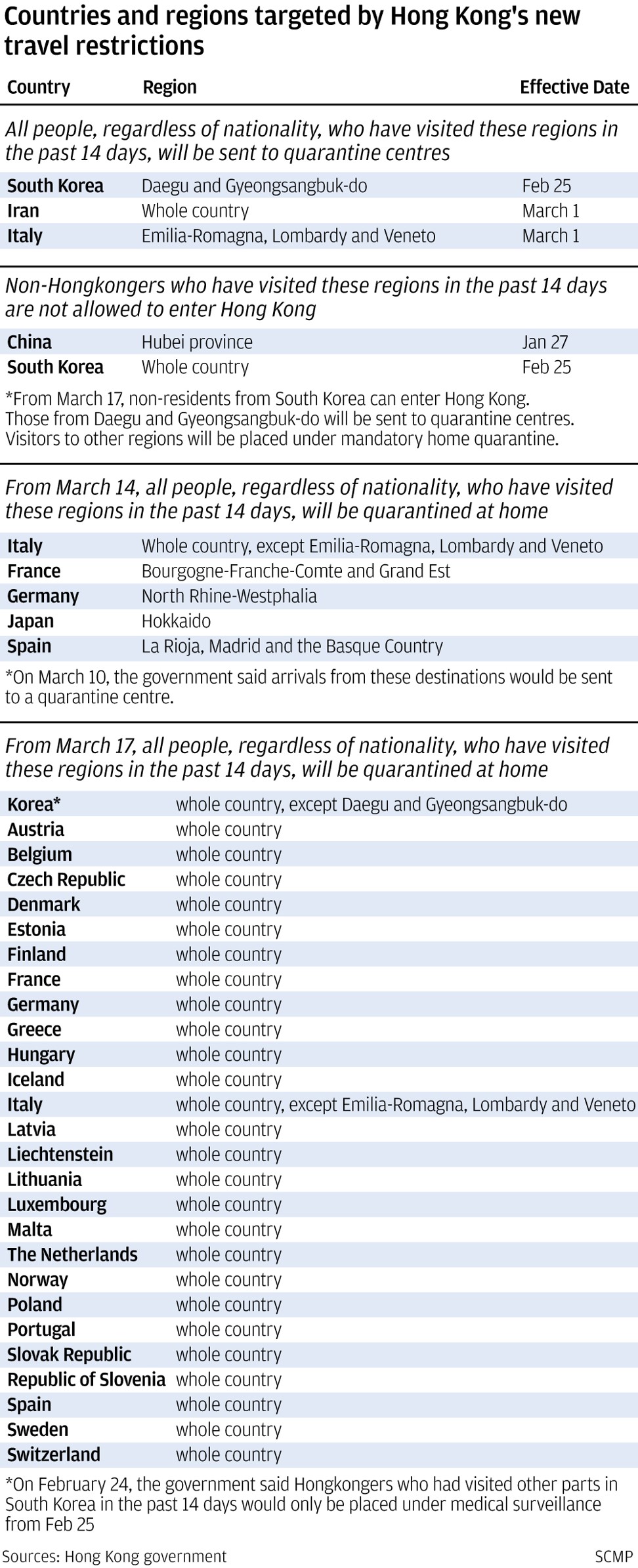 The country, which has strong trading links with Hong Kong, and where many of the city's children attend school, had recorded 798 confirmed cases by noon on Saturday, including 10 deaths.
"We have been watching very closely the trend of development in any part of the world, also apart from the Schengen area in Europe, so we will not exclude additional measures towards other countries," Chui said.
Anyone arriving from the Schengen region, which has a combined population of more than 420 million, will have to undergo a mandatory self-quarantine for 14 days, starting from next Tuesday. Countries including France, Germany, and Denmark are covered.
Those arriving from the Emilia-Romagna, Lombardy and Veneto regions of Italy – the worst-hit country after China – face mandatory quarantine in government camps.
In addition, from midnight on Friday until next Tuesday, all arrivals from the Bourgogne-Franche-Comte and Grand Est regions in France, North Rhine-Westphalia in Germany, and La Rioja, Madrid and the Basque Country in Spain, would have to self-quarantine, and not be confined at government facilities as previously announced. The same will apply to arrivals from Hokkaido in Japan.
Chui said many arrivals from listed countries would be quarantined at home because there were limited isolation facilities, and officers needed to prioritise who should be sent to the sites.
But Dr Ho Pak-leung from the University of Hong Kong urged the government to also impose quarantine restrictions on Britain.
Ho said he expected to see a surge in the number of confirmed cases in Britain in the coming weeks, considering that the government there had not adopted drastic measures to fight the pandemic.
"So many Hong Kong students now stay in the UK and there are hundreds of thousands of residents who have the right to abode in the country," he said. "The Hong Kong government should better predict the situation and take more decisive action."
Parents whose children study in Britain have already expressed concern, according to Angus Tang Chi-wing, director of HKIES Overseas Education Centre. The centre has received dozens of inquiries from concerned parents since the outbreak in Italy.

Tang said around 5,000 Hong Kong students study at private schools in Britain and there was no plan to suspend classes yet.
"As far as I know, more than 10 students came back from the UK to Hong Kong in the last two days," he said.
He suggested parents discuss the situation with schools before bringing back their children ahead of the Easter holiday.
Chris Leung, 28, who is studying for a master's at the London School of Economics, initially planned to return to Hong Kong in April to conduct research for his dissertation, and have a holiday.
But he has decided to stay in London as he is worried he would need to be quarantined or not be able to return to Britain to finish his exams in May and June.
"It's hard not to get worried, but as long as I have taken the necessary precautions I think things are going to be all right," he said.
Read more : SCMP