Tesco, the UK's largest grocer, has begun rationing essential food and household items as a result of coronavirus stockpiling.
Shoppers are limited to buying no more than five of each of the rationed goods, including antibacterial gels, wipes and sprays, dry pasta, UHT milk and some tinned vegetables
The rules apply in stores and online.
Waitrose has introduced a temporary cap on some items on its website, including some anti-bacterial soaps and wipes.
The supermarket said it was in talks with its suppliers to ensure customer demand was met.
The High Street chemist Boots has restricted sales on hand sanitisers to two per person.
Meanwhile, Sainsbury's said it was not currently rationing any products in-store or online.
Dr Andrew Potter, chair in logistics and transport at Cardiff Business School, told the BBC: "Whilst there might be empty shelves at the moment in the shops, over the next week or so, we will see them replenish.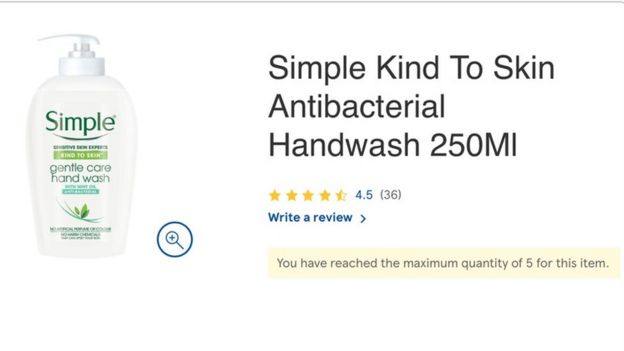 "The supply chain will start to deliver stuff through to the stores and hopefully this shortage – which is fairly short-term – will clear and everything will be back to normal again."
He said while retailers may have been caught out by the beginning of this shopping surge, they had very sophisticated systems to check changes in demand.
Waitrose said it has not put a cap on any of its products in stores.
But it has introduced a temporary cap on certain products on its website, including some anti-bacterial soaps and wipes, "to ensure our customers have access to the products they need".
UK retailers have been warned that they face prosecution if they exploit the coronavirus scare to hike prices for products such as hand sanitisers and face masks.
Source: BBC News