A church in Devon has been closed for a deep clean after a parishioner was diagnosed with coronavirus, the Church of England announced.
The person tested positive for the virus after attending a Holy Communion service at St Mary's Church in Churston Ferrers on Sunday.
A nearby school also shut earlier this week after a pupil tested positive for the virus.
The church was temporarily shut on the advice of Public Health England (PHE).
Pupils at Churston Ferrers Grammar School are currently receiving lessons online, after the school closed on Monday when a student was diagnosed with coronavirus,
Daily work is being set on a "shared forum" in what the school's deputy head called a "creative solution" to a "strange situation."
The Rev Prof Gina Radford, a vicar in south Devon and former deputy chief medical officer for England, said the church would "support people both spiritually and practically".
"The Lord moves in mysterious ways," she said.
"To be able to bring my skills and experience from one role into my new role… It's an enormous privilege to having previously been looking at the physical health of people and now being able to look at and support the spiritual health of people."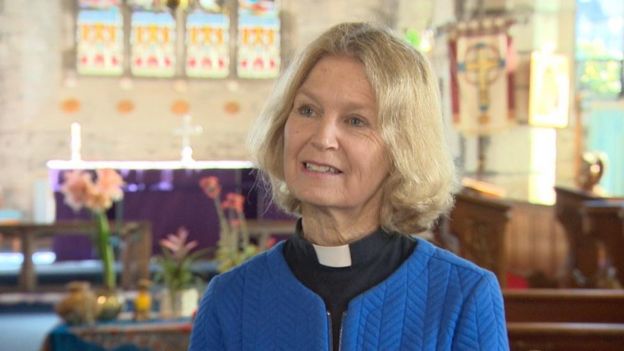 Rev Radford added that individual priests were able to suspend the sharing of the chalice during Communion and shaking hands when sharing the peace.
"We have had no central advice to suggest that we shouldn't be gathering together and when people are anxious coming together in a church to worship together, to meet together, can give huge reassurance and is an important thing that we can offer to the community," she said.
"At this moment in time it is business as usual but with particular care around certain things, particularly our own hygiene."

Source: BBC News